US-Led Economic War, Not Socialism, Is Tearing Venezuela Apart.
Posted January 27, 2019 by Edward Morgan. 
Americans have been trained by decades of Cold War propaganda to look for any confirmation that 'socialism means poverty.' But in the case of Venezuela and other states not governed by the free market, this cliche simply doesn't ring true.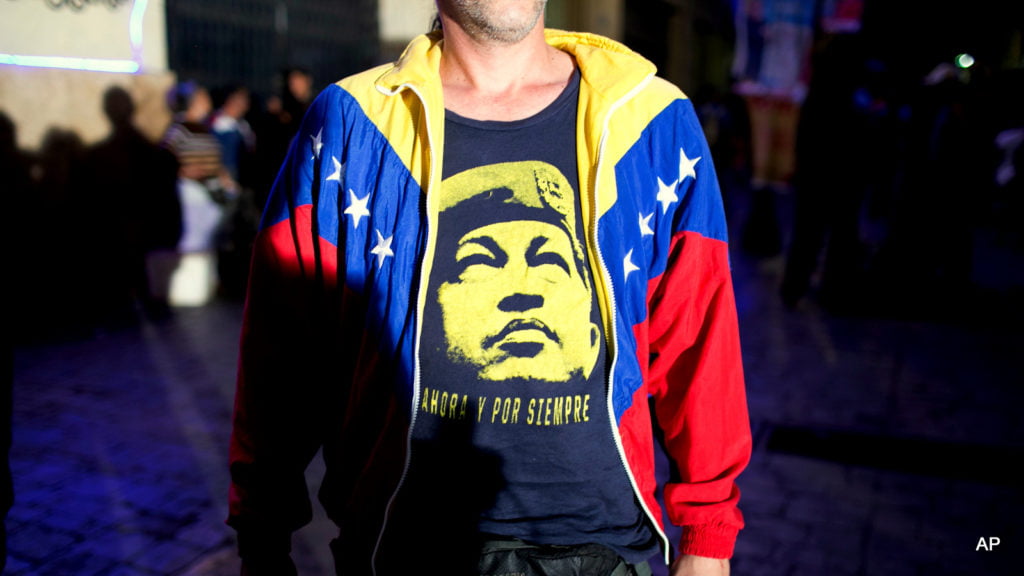 .
A pro-government supporter wears a T-Shirt with image of Venezuela's late President Hugo Chavez, as he waits for results during congressional elections in Caracas, Venezuela, Sunday, Dec. 6, 2015. Some members of the opposition are angry after elections officials ordered polling centers to stay open for an extra hour, even if no one was standing in line to vote. Government opponents mobbed some voting stations demanding that the National Guard stick to the original schedule of closing at 6 p.m. (AP Photo/Alejandro Cegarra)
WASHINGTON — (ANALYSIS) 

The political and economic crisis facing Venezuela is being endlessly pointed to as proof of the superiority of the free market.
Images and portrayals of Venezuelans rioting in the streets over high food costs, empty grocery stores, medicine shortages, and overflowing garbage bins are the headlines, and the reporting points to socialism as the cause.
Indeed, corporate-owned, mainstream media advises Americans to look at the inflation and food lines in Venezuela, and then repeat to themselves clichés they heard in elementary school about how "Communism just doesn't work."
In reality, millions of Venezuelans have seen their living conditions vastly improved through the Bolivarian process. The problems plaguing the Venezuelan economy are not due to some inherent fault in socialism, but to artificially low oil prices and sabotage by forces hostile to the revolution.
Starting in 2014, the Kingdom of Saudi Arabia flooded the market with cheap oil. This is not a mere business decision, but a calculated move coordinated with U.S. and Israeli foreign policy goals. Despite not just losing money, but even falling deep into debt, the Saudi monarchy continues to expand its oil production apparatus. The result has been driving the price of oil down from $110 per barrel, to $28 in the early months of this year. The goal is to weaken these opponents of Wall Street, London, and Tel Aviv, whose economies are centered around oil and natural gas exports.
And Venezuela is one of those countries. Saudi efforts to drive down oil prices have drastically reduced Venezuela's state budget and led to enormous consequences for the Venezuelan economy.
At the same time, private food processing and importing corporations have launched a coordinated campaign of sabotage. This, coupled with the weakening of a vitally important state sector of the economy, has resulted in inflation and food shortages. The artificially low oil prices have left the Venezuelan state cash-starved, prompting a crisis in the funding of the social programs that were key to strengthening the United Socialist Party.
Corruption is a big problem in Venezuela and many third-world countries. This was true prior to the Bolivarian process, as well as after Hugo Chavez launched his massive economic reforms. In situations of extreme poverty, people learn to take care of each other. People who work in government are almost expected to use their position to take care of their friends and family. Corruption is a big problem under any system, but it is much easier to tolerate in conditions of greater abundance. The problem has been magnified in Venezuela due to the drop in state revenue caused by the low oil prices and sabotage from food importers.
The Bolivarian experience in Venezuela
Americans have been trained by decades of Cold War propaganda to look for any confirmation that "socialism means poverty." A quick, simplistic portrait of the problems currently facing Venezuela, coupled with the fact that President Nicolas Maduro describes himself as a Marxist, can certainly give them such a confirmation. However, the actual, undisputed history of socialist construction around the world, including recent decades in Venezuela, tells a completely different story.
Hugo Chavez was elected president of Venezuela in 1999. His election was viewed as a referendum on the extreme free market policies enacted in Venezuela during the 1990s. In December, when I walked through the neighborhoods of central Caracas, Venezuelans spoke of these times with horror.
Venezuelans told of how the privatizations mandated by the International Monetary Fund made life in Venezuela almost unlivable during the 1990s. Garbage wouldn't be collected. Electricity would go off for weeks. Haido Ortega, a member of a local governing body in Venezuela, said: "Under previous governments we had to burn tires and go on strike just to get electricity, have the streets fixed, or get any investment."
Chavez took office on a platform advocating a path between capitalism and socialism. He restructured
---