By Dahlia Scheindlin.
Posted January 11, 2020 by Edward Morgan .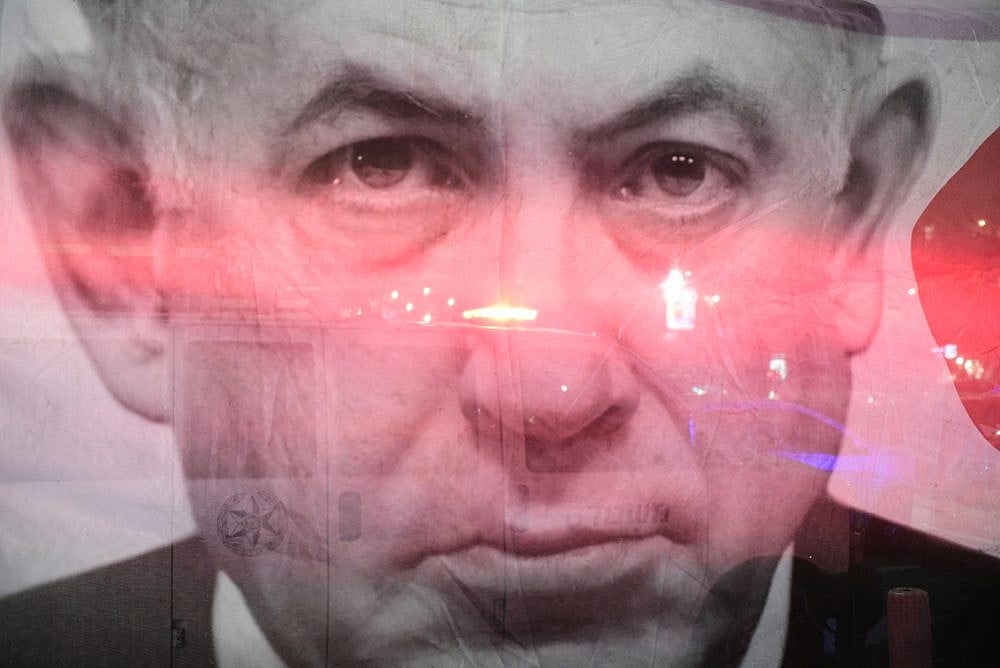 .
Netanyahu has only been so successful because he reflects and represents the many faces of Israel: victor and victim, global citizen and international outcast, pyromaniac and war-shy.
While writing his 1953 breakout novel Lucky Jim, Kingsley Amis consulted with his best friend and inspiration for the main character, Jim Dixon. "'How many Dixon faces do you think there ought to be?" Amis wrote. "I mean a lot, 10 or so, or just 3 or 4?'" The reply is not extant, but Keith Gessen, in his 2012 introduction, relates that "it must have been a lot," and he lists some of Dixon's looks: the "'shot in the back face,' his 'tragic-mask face,' his 'crazy peasant face.'"
Like Israel itself, Bibi is all of these things. I can't know his mind, but as a psychologist of the public domain, it dawned on me that most of Bibi's faces have some parallel in Israeli state and society. Similarly, many of his policies began long before he returned to power and will continue long after he's gone. Failure to recognize that won't help the opposition. Netanyahu has been so successful because he reflects and represents many faces of Israel.
Take his "us against the world" face. In these moments, he holds his chin high at press conferences and faces down global storms of criticism. During the Mavi Marmara incident in 2010, Israel raided a boat trying to break the siege on Gaza, killing 10 Turkish citizens on high seas. In his response to a massive global outcry, Netanyahu spoke to the Israeli press in Hebrew, and railed against the "attack of international hypocrisy, " thereby transforming the incident into an attack on Israel. Israelis relaxed into their far more comfortable role of "us against the world," whereby the world uses every weapon, even "global hypocrisy," to harm our embattled nation.
The same role reversal can be seen with every international criticism of Israeli policy from at least 1955, when Prime Minister David Ben Gurion famously dismissed presumed international condemnation should Israel capture the Gaza Strip. And it continues to today, when Israel's Hebrew-language media, save for Haaretz, responds to the possibility of an International Criminal Court investigation against Israel with wall-to-wall headlines about hypocrisy and anti-Semitism. They didn't need Netanyahu's help.
Us and them is the effective way to consolidate support at home, against an external enemy. A close cousin is the victim face, which Netanyahu employs to conjure the internal enemy. The great power of the populist lies in his ability to fuse himself with the victimhood of the country's marginalized populations. This helps explain the populist paradox in which a fabulously wealthy leader comes to stand for the downtrodden and poor.
As I've argued, Netanyahu's most burnished victim narrative involves being persecuted by the state for representing the true (right-wing) interests of the people. With this victim-face, he appeals to some of Israel's underprivileged populations, fusing real and perceived grievances, political and socio-economic marginalization, and with still greater irony given Netanyahu's Ashkenazi elite demographic, he even represents Mizrahi cultural and class alienation. They cling to him to vanquish their enemies not only abroad, but at home. His triumph is their triumph.
There's the shameless-mendacious face. Netanyahu has used this in various ways. It is an artful form of lying, often starting with a grain of truth, then bludgeoned with a blunt instrument to serve his political narrative.  He wore this face when he asserted the Grand Mufti of having planted the idea of genocide in the mind of Hitler, by association blaming the Palestinian people for the Holocaust.
Israelis themselves tell stories that are far from reality, with only a kernel truth at the core. Israel calls itself a vibrant democracy, although throughout nearly its entire history it has held some portion of its subjects — Palestinian citizens or Palestinians in the occupied territories — under an undemocratic military regime. Though the occupation gets deeper with each decade, many Israelis tell themselves it does not exist at all. Blaming the Palestinians for genocide of the Jews is a similar logical leap that these Israelis are well-suited to believe.
There is also a particular extension of mendacious face. It's the overwrought conviction of someone who has come to believe his own lies. Netanyahu can convince himself vociferously of falsehoods that are ever-more outlandish. In May, he feverishly asserted that Avigdor Liberman, a hardline nationalist competitor, was left-wing, after Liberman refused to join a right-wing coalition, triggering new elections. That was comical enough to cause a reporter to laugh spontaneously.
That face is on display with his most recent crazed fabrication, however, which is far more grave. On the evening of his indictment, Netanyahu finally dove headlong into the right-wing assault on Israel's legal system. He had kept himself somewhat distant from the increasingly vicious delegitimization of the Israeli judiciary on his decade-long watch, but now seized the story with a vengeance. The police, the prosecutor, and by association the attorney general and the entire legal system itself, had come after him like a lynch mob, at the bidding of their true masters, the left and the media. His persecution, of course, was an implicit replication of the people's persecution. They're coming for me and they'll come for you. They must be stopped.
I watched the press conference and believed Netanyahu — that is, I believed that he believes this fabrication entirely. Others believed his meaning: 36 percent of Israelis in an Israeli Democracy Institute survey agreed that the legal process was tainted and devised to depose him. Presumably this overlaps with 37 percent of Israelis who would like him to continue serving as prime minister despite the indictment (in a Panels poll from Nov. 26).
But Bibi tips off his own mendacity. When auto-psuedo-convictions are combined with political instability, he puts on his sweaty face.
But one of his most damaging faces is the most understated: the proto-authoritarian face. For the last ten years, what Netanyahu did most successfully was stabilize a notoriously fractious political system. Two of his governments lasted almost full four-year terms – a rarity in Israeli politics. He did this through a combination of consolidating power, distancing potential competitors, or else keeping them close and hoarding ministerial portfolios. At the time of his indictment, he held four additional ministerial roles: health, welfare, agriculture, diaspora affairs. At times he has held five at once in addition to being prime minister.
Israelis lauded his political acumen and enjoyed the relative calm. Stability and consolidation hardly make headlines, but they are the foundation of an authoritarian-populist. Dismiss with the bothersome procedures of a democracy. Scrap checks and balances on executive power while you're at it. Trade your freedom for stability.
If Netanyahu is the least conspicuous in the proto-authoritarian role, perhaps his bombastic faces are a good thing. They expose the extreme but inevitable version of the authoritarian leader: obsessive image-mongering to maintain a cult of personality, the temptations of corruption to preserve power, the resort to paranoia, the descent into political self-destruction, even in excruciating slow motion.
I have clung to my belief that Israel has other faces: the true peace-seeking face, not the peace face full of makeup. The liberal-democratic face, which is bruised and nearly unrecognizable at present, but can still be seen winking in the corner sometimes.
Dahlia Scheindlin is a leading international public opinion analyst and strategic consultant specializing in progressive causes, political and social campaigns in over a dozen countries, including new/transitional democracies and peace/conflict research in Israel, with expertise in Eastern Europe and the Balkans. She works for a wide range of local and international organizations dealing with Israeli-Palestinian conflict issues, human rights, peacemaking, democracy, religious identity, and internal social issues. Dahlia holds a PhD in political science from TAU, and she is the co-host of The Tel Aviv Review podcast.
---
Archives:
A Trusty with Privacy Search 
---
No religious or political creed is advocated here.
Organised religion is unnecessary to spirituality.
Excellent teachings of the masters have been contaminated by the dogmatic control of these religions.
Discernment yes; judgement does not.
If you use discernment you are free to research with an open mind. 
With discernment it is possible to reach the spirit of the letter of any writing and it is also much easier to listen to the voice of the soul that comes from the heart.
Individually

 you can be helped to find your Truth that is different of everyone. 

Please respect all credits.
Discernment

 is recommended.
All articles are of the respective authors and/or publishers responsibility. 
---
Like this! please bookmark. It is updated daily