Wikileaks Document Exposes a
"Secret US Base on the Moon"
.
By Arjun Walia.
April 15, 2019 by Edward Morgan.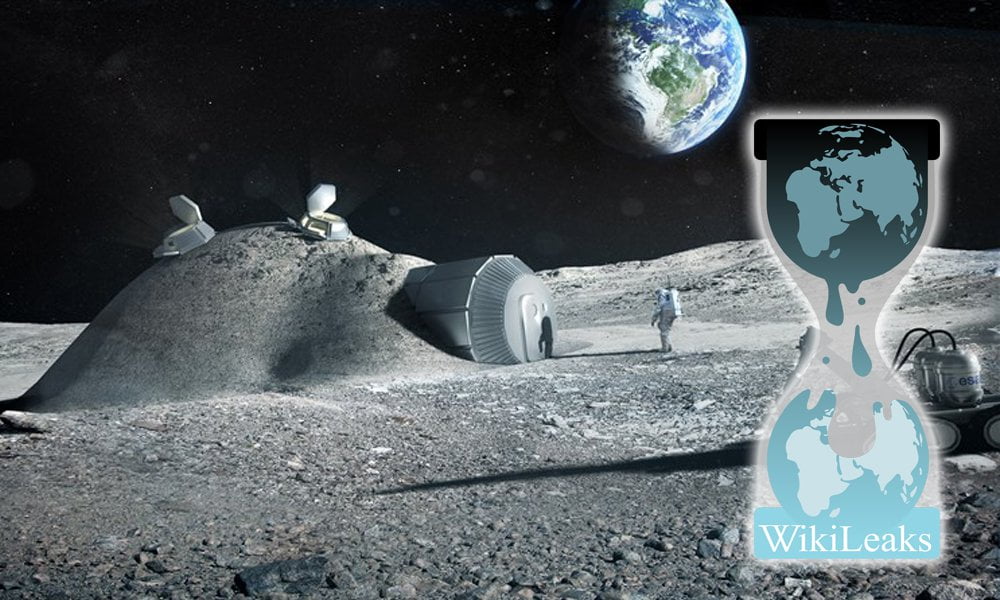 .
IN BRIEF:
The Assange arrest is scandalous in several respects, and one of them is the effort of governments, and it's not just the US government… The efforts to silence a journalist who was producing materials that people in power didn't want the rascal multitude to know about… That's basically what happened. Wikileaks was producing things that people ought to know about those in power, people in power don't like that. So therefore we have to silence it. – Noam Chomsky (source)
I also believe that we can and will achieve the goal set by Presidents Kennedy and Johnson: a manned landing on the moon before 1970. My own confidence in our rapidly advancing science and technology is such that I can visualize many more dramatic achievements ahead, although I will fix no timetable for them. 1. The exploration of the lunar surface, and possibly the establishment of one or more permanent bases there.
Dear John, Because the War in Space race is heating up, I felt you should be aware of several factors as you and I schedule our Skype talk. Remember, our nonviolent ETI from the contiguous universe are helping us bring zero point energy to Earth. They will not tolerate any forms of military violence on Earth or in space. The following information in italics was shared with me by my colleague Carol Rosin, who worked closely for several years with Wernher von Braun before his death. Carol and I have worked on the Treaty on the Prevention of the Placement of Weapons in Outer Space, attached for your convenience.
"I also learned about incidents involving nuclear weapons, and among these incidents were a couple of nuclear weapons sent into space that were destroyed by the extraterrestrials… At the very end of the 70s and the early 80s, we attempted to put a nuclear weapon on the Moon and explode it for scientific measurements and other things, which was not acceptable to the extraterrestrials. They destroyed the weapon before it got to the Moon." (source)
A spacecraft went to the rescue of Apollo 13, and they accompanied Apollo 13 on their voyage around the Moon back to Earth. And on two occasions they thought they might have to transfer the crew to their spacecraft, but they saw them safely back to Earth.
It is not out of the question that artifacts of these visits still exist, or even that some kind of base is maintained (possibly automatically) within the solar system to provide continuity for successive expeditions. Because of weathering and the possibility of detection and interference by the inhabitants of the Earth, it would be preferable not to erect such a base on the Earth's surface. The Moon seems one reasonable alternative. Forthcoming high resolution photographic reconnaissance of the Moon from space vehicles – particularly of the back side – might bear these possibilities in mind. (source)
A decidedly conservative mainstream scientific establishment often rejects anomalies based on subject matter alone, i.e., there cannot be alien artifacts on the moon because there are no alien artifacts on the moon (or other planets). Such a view is an example of circular reasoning, based on the belief that extraterrestrials do not exist, or if they do exist that they could not have traveled to our solar system.
"The Clementine Mission was a photo reconnaissance mission basically to check out if someone was building bases on the Moon that we didn't know about. Were they expanding them?… Of all the pictures I've seen from the Moon that show possible structures, the most impressive is a picture of a miles-wide recto-linear structure. This looked unmistakably artificial, and it shouldn't be there. As somebody in the space defence community, I look on any such structure on the Moon with great concern because it isn't ours, there's no way we could have built such a thing. It means someone else is up there." (Quote from the documentary, "Aliens on the Moon.")
Welcome To The World of Secrecy
Become so large, so unwieldy and so secretive that no one knows how much money it costs, how many people it employs, how many programs exist within it or exactly how many agencies do the same work. (source)
The Takeaway
---