Benevolent E.T.s and Malevolent E.T.s
The 9D Arcturian Council
Channeled by D

aniel Scranton
May 13th, 2020.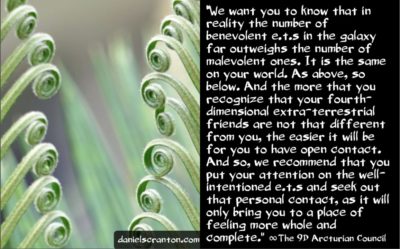 .
Greetings. We are the Arcturian Council. We are pleased to connect with all of you.
We are always searching for the best possible ways to reach humans with our energy, which we consider to be very helpful. And we have been noticing that there are opportunities presenting themselves to us that are new and exciting. You all have been more receptive to our energy due in large part to how many positive depictions there have been of extra-terrestrials in your science fiction. People are seeing a new breed of e.t.s.
Extra-terrestrials are being seen now as friendly, helpful, knowledgeable and perhaps even more evolved spiritually, and that is helping to bridge the gap between humans and extra-terrestrials. We know that science fiction writers, directors, storytellers of all kinds, are receiving downloads, and those downloads are showing up in the work that they produce. But the evolution of e.t.s in your science fiction is also related to the evolution of your consciousness.
When you first saw e.t.s depicted in your various storytelling works, they were grotesque, evil, and out to take over your planet and annihilate all life. Now you are seeing a much more realistic depiction of the extra-terrestrials that you share this galaxy with. You are seeing that some are very good, very high-vibrational, and very much want to help humanity, to connect and co-create with you. And of course, you also have the other end of the spectrum. You see that there are still depictions of e.t.s that are malevolent and want to hurt and take over every planet they come across.
We want you to know that in reality the number of benevolent e.t.s in the galaxy far outweighs the number of malevolent ones. It is the same on your world. As above, so below. And the more that you recognize that your fourth-dimensional extra-terrestrial friends are not that different from you, the easier it will be for you to have open contact. And so, we recommend that you put your attention on the well-intentioned e.t.s and seek out that personal contact, as it will only bring you to a place of feeling more whole and complete as a being, as a traveler, as someone who has their very own galactic history.
The day is coming when humanity will openly be a part of the galactic community, and we are seeing that day coming sooner and sooner all the time.
We are the Arcturian Council, and we have enjoyed connecting with you.
---
A Trusty with Privacy Search 
Alternative to Google
startpage.com
Alternatives to YouTubebitchute.combrighteon.com

---
All articles are of the respective authors or publishers responsibility. 
No religious or political creed is advocated here.
Organised religion is unnecessary to spirituality.
Excellent teachings of the masters have been contaminated by the dogmatic control of these religions.
Discernment yes; judgement does not.
If you use discernment you are free to research with an open mind. 
With discernment it is possible to reach the spirit of the letter of any writing and it is also much easier to listen to the voice of the soul that comes from the heart.
Individually

 you can be helped to find your Truth that is different of everyone. 

Please respect all credits.
Discernment

 is recommended.
---
Like this! please bookmark. It is updated daily