RECOVERED MEMORIES FROM EARLY CHILDHOOD AND PAST LIVES.
THE 9D ARCTURIAN COUNCIL
CHANNELED BY DANIEL SCRANTON
March 3rd, 2020.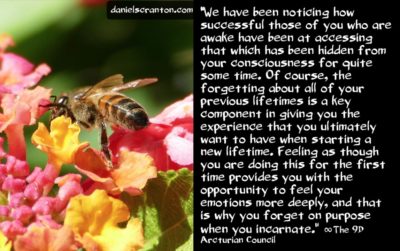 We
 are the Arcturian Council. We are pleased to connect with all of you.
We have been exploring the different ways that you have of recovering your lost memories, and we have been noticing how successful those of you who are awake have been at accessing that which has been hidden from your consciousness for quite some time. Of course, the forgetting about all of your previous lifetimes is a key component in giving you the experience that you ultimately want to have when starting a new lifetime. Feeling as though you are doing this for the first time provides you with the opportunity to feel your emotions more deeply, and that is why you forget on purpose when you incarnate.
And then, there are those early years, the formative ones. That is a time period where most of you have recovered very few of your memories, and that is also by design. You become a different person as you grow up. Your vibration is so different from those early, formative years to your teens that you might as well consider your first few years in an incarnation as a previous lifetime. But now that you are awake and recognizing that you have been visited, observed, and even taken by extra-terrestrials, you are starting to understand the significance of these recovered memories from early childhood.
And, of course, once you recognize that you have reincarnated many times on this planet and in other parts of the galaxy, you really want to know what you've already done and what you've already been. And so, the recovery of those memories can come to you in a variety of ways. When you have a dream that feels very real and hits you very hard emotionally, that's a time when you know that you have just recovered a memory.
You also recover those memories when you are taken into an altered state or put yourself in an altered state. It is time for you all to trust what you are getting in your third eye. It is time for you to remember, and you don't need to go on an ayahuasca journey to do so. You don't need to take anything at all. A desire to know, coupled with a readiness to believe in yourself and your ability to recover those memories is all that is required.
We want you to notice how these recovered memories feel, and recognize that the feeling is the significant part. It's not about the story. It's about how the story makes you feel, and that's how you know the recovered memory is serving you. That's when you use the information that you gather for the purpose of helping you to expand and evolve your consciousness. And that's the point where you are on your journey right now. You are ready to do that work, and we are happy to be your cheerleaders.
We are the Arcturian Council, and we have enjoyed connecting with you.
---
A Trusty with Privacy Search 
---
No religious or political creed is advocated here.
Organised religion is unnecessary to spirituality.
Excellent teachings of the masters have been contaminated by the dogmatic control of these religions.
Discernment yes; judgement does not.
If you use discernment you are free to research with an open mind. 
With discernment it is possible to reach the spirit of the letter of any writing and it is also much easier to listen to the voice of the soul that comes from the heart.
Individually

 you can be helped to find your Truth that is different of everyone. 

Please respect all credits.
Discernment

 is recommended.
All articles are of the respective authors and/or publishers responsibility. 
---
Like this! please bookmark. It is updated daily