Ascension Series Interview.
Posted January 8, 2020 by Gerry Gomez.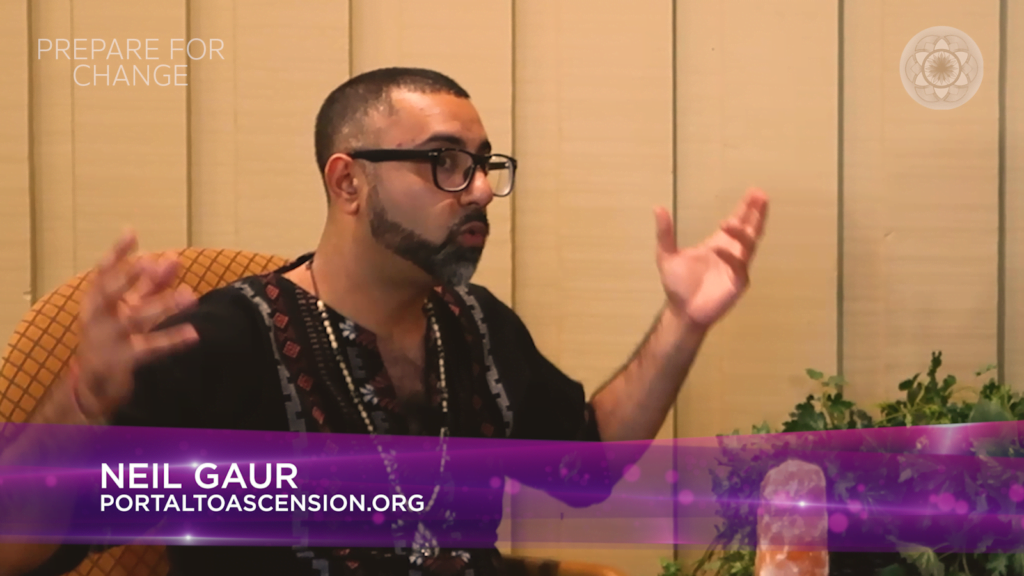 .
Prepare for Change releases our final interview from our Ascension Series Interviews done at the Portal to Ascension Conference – this one with conference organizer Neil Gaur of Portal to Ascension (portaltoascension.org). In our conversation, we speak about being a conduit of truth.
Gaur is the driving creative force behind Portal to Ascension. The Portal to Ascension brand was created to help humanity navigate through the range of awareness regarding consciousness, human empowerment and the paradigm shift of our society. Through live and online events and a library of webinars viewable at portaltoascention.org, Neil presents many thought leaders in the Ascension, ancient history, consciousness, and ET fields. He speaks with us about the future of Portal to Ascension and what to expect in the coming years.
We conducted all of our Ascension Series Interviews at the Portal to Ascension Conference in Irvine in October. This culminates all of our interviews. If you've missed a previous interview, you can find them here: YouTube Ascension Series Interviews. 
Our Ascension Series of Interviews took place this past October when Prepare for Change attended the Portal to Ascension Conference in Irvine, CA put on by 
PortaltoAscension.org
. The weekend conference focused on speakers that presented information about different aspects of Ascension from its historical significance, the cycles of time, what it means to humanity, how it will lead to changes in consciousness, how to discern claims, and more fascinating topics.
It has been with great pride that we were able to join together with Portal to Ascension to present these "Ascension Series" interviews for our Prepare for Change and Portal to Ascension community members and the public. Please like and share when they come online.
Also, thank you to all the comments and shares you've made – it's helped us think of ways to better present content in the future. We are always looking for volunteers, so if you're interested in helping us bring better content to our platform, please get in contact with us.
Check out all the interviews at our YouTube channel, found here.
---
Archives:
A Trusty with Privacy Search 
---
No religious or political creed is advocated here.
Organised religion is unnecessary to spirituality.
Excellent teachings of the masters have been contaminated by the dogmatic control of these religions.
Discernment yes; judgement does not.
If you use discernment you are free to research with an open mind. 
With discernment it is possible to reach the spirit of the letter of any writing and it is also much easier to listen to the voice of the soul that comes from the heart.
Individually

 you can be helped to find your Truth that is different of everyone. 

Please respect all credits.
Discernment

 is recommended.
All articles are of the respective authors and/or publishers responsibility. 
---
Like this! please bookmark. It is updated daily