Manifest Your Desires Faster than Ever
The 9D Arcturian Council
Channeled by D

aniel Scranton
May 24th, 2020.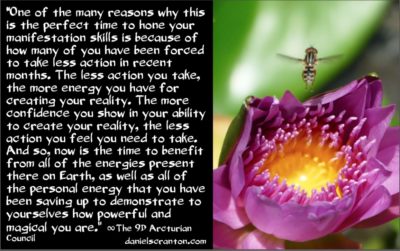 .
Greetings. We are the Arcturian Council. We are pleased to connect with all of you.
You are capable of a more immediate manifestation of your desires than you ever have in human history. You seek to see the changes that you want to experience there on Mother Earth, but most of you are looking for someone else to bring about the changes that you seek. And that is why we are calling upon all of you as the awakened collective to put what we are saying to the test. Demonstrate to yourselves and others that the time lag in between you putting a desire out into the universal consciousness, and that manifestation coming back to you, is shorter than ever.
Not only are the energies on your world moving faster than they ever have before, but you are also stronger, more confident, and more experienced than you ever have been before. You need to witness your new manifestation abilities for yourselves, and we suggest that you start with something small, something that you can easily believe in manifesting fairly quickly. And then keep building. Keep reaching for bigger and bigger manifestations, and you will see that what we are saying is true. You will also be able to teach and guide others who have been seeking to amplify their manifestation skills.
One of the many reasons why this is the perfect time to hone your manifestation skills is because of how many of you have been forced to take less action in recent months. The less action you take, the more energy you have for creating your reality. The more confidence you show in your ability to create your reality, the less action you feel you need to take. And so, now is the time to benefit from all of the energies present there on Earth, as well as all of the personal energy that you have been saving up to demonstrate to yourselves how powerful and magical you are as creator beings.
We are talking about anything and everything that you have ever wanted to manifest, so please do not assume that you will not be able to manifest something just because you haven't been able to manifest it yet. These are strange and wonderful times you are living in, and this is a unique opportunity to explore your newfound manifestation abilities.
We are the Arcturian Council, and we have enjoyed connecting with you.
---
A Trusty with Privacy Search 
Alternative to Google
startpage.com
Alternatives to YouTubebitchute.combrighteon.com

---
All articles are of the respective authors or publishers responsibility. 
No religious or political creed is advocated here.
Organised religion is unnecessary to spirituality.
Excellent teachings of the masters have been contaminated by the dogmatic control of these religions.
Discernment yes; judgement does not.
If you use discernment you are free to research with an open mind. 
With discernment it is possible to reach the spirit of the letter of any writing and it is also much easier to listen to the voice of the soul that comes from the heart.
Individually

 you can be helped to find your Truth that is different of everyone. 

Please respect all credits.
Discernment

 is recommended.
---
Like this! please bookmark. It is updated daily