Heal the Coronavirus Fear-Mongering 
THE 9D ARCTURIAN COUNCIL
CHANNELED BY DANIEL SCRANTON
March 12th, 2020.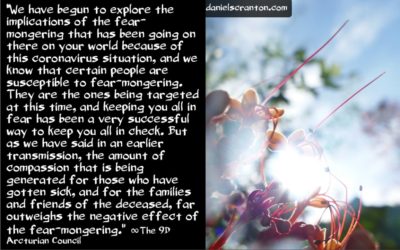 We
 are the Arcturian Council. We are pleased to connect with all of you.
We have begun to explore the implications of the fear-mongering that has been going on there on your world because of this coronavirus situation, and we know that certain people are susceptible to fear-mongering. They are the ones being targeted at this time, and keeping you all in fear has been a very successful way to keep you all in check. But as we have said in an earlier transmission, the amount of compassion that is being generated for those who have gotten sick, and for the families and friends of the deceased, far outweighs the negative effect of the fear-mongering.
Each of you who is awake is being called at this time to be a part of the compassionate blanket of energy that humanity needs right now. Humans need to feel secure about their health and well-being, and those of you who are there to be the lightworkers at this time are the ones to construct that blanket of energy, that healing love and light, and to throw it over the entire planet at this time. See yourselves working with the other lightworkers, the other healers, the other compassionate ones, all around the planet to co-create this healing, loving, compassionate energy, and imagine yourselves holding that blanket around the entire population at this time.
Hold space for those who are living in fear that they will get sick and possibly even die. This is a gigantic root chakra cleanse for humanity, and when you are cleansing, there are side effects. You do experience pain during a cleanse because you are releasing that which is toxic. There have been enough now who have suffered from the coronavirus to have completed the root chakra cleanse, but the fear is still present because some of these fears are fears that have been generated in this lifetime and are just floating around in people's energy fields.
The cleansing of the energy fields of each and every human being of the fears that they hold onto is the final step here, and you are the ones to help bring about this final purging with a gentle kindness in your hearts for those who are feeling the fear. You are the ones who are being called at this time to be strong, to be balanced, to be grounded, and to know that your vibration will always determine how much health and well-being you hold in your body. Knowing that, holding that truth in your consciousness, is also what is needed at this time for the collective.
We are the Arcturian Council, and we have enjoyed connecting with you.
---
A Trusty with Privacy Search 
---
No religious or political creed is advocated here.
Organised religion is unnecessary to spirituality.
Excellent teachings of the masters have been contaminated by the dogmatic control of these religions.
Discernment yes; judgement does not.
If you use discernment you are free to research with an open mind. 
With discernment it is possible to reach the spirit of the letter of any writing and it is also much easier to listen to the voice of the soul that comes from the heart.
Individually

 you can be helped to find your Truth that is different of everyone. 

Please respect all credits.
Discernment

 is recommended.
All articles are of the respective authors and/or publishers responsibility. 
---
Like this! please bookmark. It is updated daily