Don't Fall for the Destiny Trap.
The 9D Arcturian Council
Channeled by Daniel Scranton
April 18th, 2020.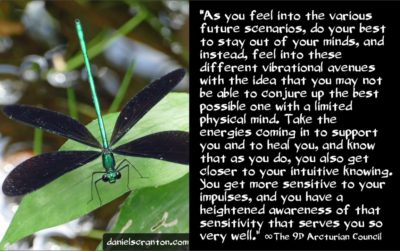 Greetings. We are the Arcturian Council. We are pleased to connect with all of you.
We have been looking at all of the possibilities that exist at this time for humanity in the near future, and what we can see is that you are being very cautious about choosing where you will go next as a collective. You have seen yourselves and others being very cautious in the physical realm, washing your hands and wearing masks. You have been choosing not to touch things, not to go places, and you have been stocking up on supplies that you might need, all in order to be cautious, as you observe the different possibilities in your mind that keep coming up for you.
Now is a time when you must be willing to feel into these possibilities that we see in front of you, and you want to let go of the fear-based scenarios, which include the ones where individuals in positions of power attempt to take your free will away. If you have some issues with authority, they are coming up at this time, and they are coming up to serve you.
If you have been living your life very cautiously, you will want to examine how that has affected the creation of your reality now. And if you have been believing that someone or something has to come and rescue all of humanity, then that is something for you to examine. It's a good idea to be taking stock at this time of what exactly you have been giving your power away to, especially if you don't realize that you've been doing it.
Now, getting back to the potential timelines that you have in front of you. As you feel into the various future scenarios, do your best to stay out of your minds, and instead, feel into these different vibrational avenues with the idea that you may not be able to conjure up the best possible one with a limited physical mind. Take the energies coming in to support you and to heal you, and know that as you do, you also get closer to your intuitive knowing. You get more sensitive to your impulses, and you have a heightened awareness of that sensitivity that serves you so very well when you allow it to.
You are the sensitive ones, and you need to be leaning in to that gift at this time, because if you don't, it will be much easier to fall into the trap of the timelines that others are telling you about, as if you have no choice, as if they are set in stone, as if all of humanity is destined to experience the same thing at the same time. You are not. You are there to choose, and we are here to help. Be proud of your sensitivity. It serves you very well, especially during these trying times.
We are the Arcturian Council, and we have enjoyed connecting with you.
---
A Trusty with Privacy Search 
---
No religious or political creed is advocated here.
Organised religion is unnecessary to spirituality.
Excellent teachings of the masters have been contaminated by the dogmatic control of these religions.
Discernment yes; judgement does not.
If you use discernment you are free to research with an open mind. 
With discernment it is possible to reach the spirit of the letter of any writing and it is also much easier to listen to the voice of the soul that comes from the heart.
Individually

 you can be helped to find your Truth that is different of everyone. 

Please respect all credits.
Discernment

 is recommended.
All articles are of the respective authors and/or publishers responsibility. 
---
Like this! please bookmark. It is updated daily