CORONAVIRUS, QINETIQ, AND THE ROTHSCHILD BOMBSHEL.
By Citizens Addicted to Truth.
Posted March 1, 2020 by Edward Morgan  Share.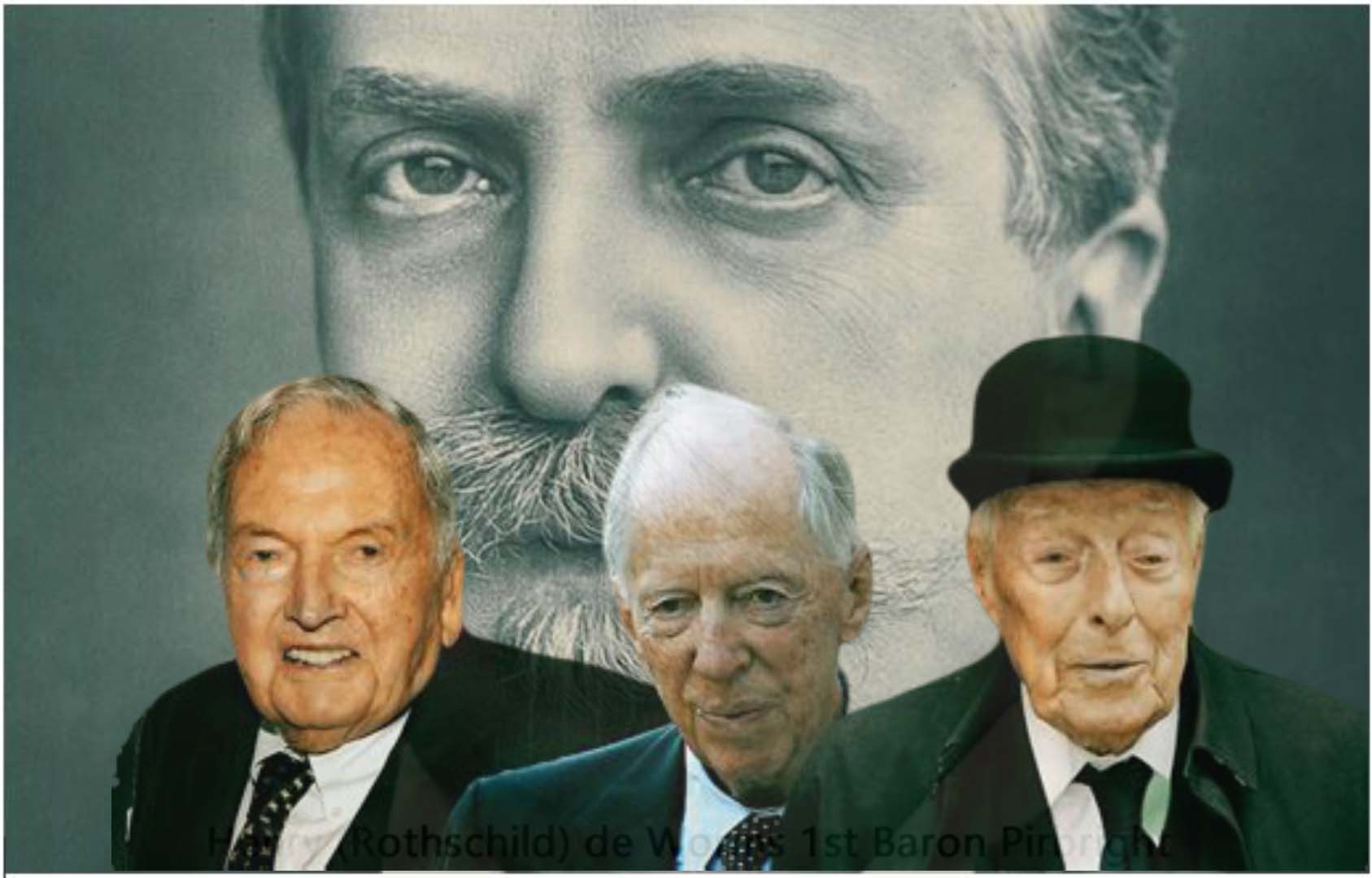 .
CORONAVIRUS UNCOVERS ROTHSCHILD LORD PIRBRIGHT AS KEY TO THE 140-YR. PILGRIMS SOCIETY MONOPOLY OVER WORLD CULTURE, COMMERCE AND WAR
.
The British Crown and the C.I.A. teamed up treasonously via QinetiQ Group Plc controlled by the Monarch
Lord Pirbright (Rothschild) and his banker cousins at N.M. Rothschild & Co. were godfathers of the 2nd Boer War concentration camps (1899-1902) to drive the French, Dutch and Germans out of South Africa
New Evidence: Leading London Jews were running the first modern war concentration camps where over 60,000 whites and blacks died, including more than 14,000 mostly white children who were subjected to Burroughs Wellcome & Co. (now Wellcome Trust–Coronavirus funder and GlaxoSmithKline) vaccine experiments
These Privy Council and Parliamentary records have been discovered after much difficulty and missing documents
Fig. 1—

Henry (Rothschild) de Worms 1st Baron Pilbright (1840-1903), also called Lord Pirbright.

 Baron Pilbright's grandmother was Schönche Jeannette Rothschild (1771–1859). Her father was Mayer Amschel Rothschild (1744–1812), the founder of the Rothschild colonial banking business in Ceylon where Lord Pirbright's father Solomon de Worms established the "Rothschild" coffee and tea plantation with slave, and nearly slave labor.
Pirbright grew up in Ceylon on "The Rothschild Plantation" where they grew coffee and tea sold through their Rothschild-financed British East India Company. At age 45, Baron Pirbright became the British minister of trade and colonies (1885-1892). During those years just prior to the founding of the Pilgrims Society in 1902, Pirbright promoted Cecil Rhodes, N.M. Rothschild, Alfred Milner and John Buchan in the Boer Wars. He also oversaw the British patent office when Nikola Tesla's began filing his wireless telegraphy patents. Regarding Tesla, Pirbright secretly allowed the British Admiralty and Post Office to steal from Tesla using Guglielmo Marconi as their fake inventor and make monopolistic deals with Marconi Wireless.
Pirbright also coached Henry S. Wellcome and Sir Henry M. Stanley in their rapacious acquisition of valuable African poisons and cures used in extensive vaccine experimentation on human beings—including black and Boer (German, Dutch and French) prisoners they had put in concentration camps and performed fatal Wellcome Trust drug experiments. Lord Pirbright gave Cecil Rhodes an almost free hand in the British South Africa Company to write laws, collect taxes and run his own police force in their new 

British Imperial-Fascist Corporatism model 

for reorganizing the British Empire while continuing to control the resources of their colonies, even after Home Rule was implement (like Rio Tinto – global mining company [including uranium] that is also a Rothschild creation for the British Crown that the Monarch controls to this day), Viscount Alfred Milner, co-founder of the Pilgrims Society, was Rio Tinto chairman from 1923-1925, and earlier a director for many years.
BASE PHOTO: NATIONAL PORTRAIT GALLERY; FAIR USE; EDUCATIONAL PURPOSES ONLY.
(FEB. 20, 2020)

—Once we discovered that the Coronavirus was created and patented (U.S. Pat. No. 10,130,701) by "The Pirbright Institute, Woking, Pirbright, Surrey," we were compelled to learn more about this Pirbright organization and the village of Pirbright. See previous post.
One of our conclusions from this investigation is that The Pirbright Institute is very evidently part of the Pilgrims Society's 200-year Rhodes-ian plan to create an un-elected one-world government where America is made subservient to the Pilgrims Society and its United Nations. 

As we are just now discovering, Rhodes had a mentor for his 200-year plan.
As a direct result of investigations to track down the ownership of responsibility for the current Coronavirus outbreak, a new ring leader in the creation of the Pilgrims Society (1902) has just emerged from hiding in the history books.
The tracing of patent ownership lineage of "U.S. Pat. No. 10,130,701, Coronavirus" led us to The Pirbright Institute, Surrey, UK, near Woking and Guildford.
The man who appears to be the Pilgrims Society nexus point is not Cecil Rhodes, but rather Rhodes' Rothschild family mentor 

Henry (Rothschild) de Worms, 1st Baron Pirbright

, sometimes referenced simply as "Lord Pirbright" or "Baron Pirbright.)
The topic "Pirbright" has many tentacles.
PIRBRIGHT—PRONOUNCED "PURR-BRIGHT" AS IN A CAT PURRING
We'll start with the name "Pirbright."
On the surface, Pirbright is a posh little English village in the Greater West London county of Surrey, less than 6 miles southwest of Woking and 7 miles northwest of Guildford.
However, literal Frankensteins lurk in Pirbright's meadows.

FIG. 2—THE PIRBRIGHT INSTITUTE & COBBETT HILL EARTHSTATION,
 BOTH USE BRITISH MINISTRY OF DEFENSE (MOD) PROPERTY ONCE OWNED BY HENRY (ROTHSCHILD) DE WORMS 1ST BARON PIRBRIGHT. BETWEEN 1886-1892 PIRBRIGHT SPONSORED CECIL RHODES, ALFRED MILNER, N.M. ROTHSCHILD BANKING, THE BOER WARS, THE BRITISH SOUTH AFRICA COMPANY, DE BEERS MINING, BURROUGHS WELLCOME RAPE OF AFRICAN MEDICINALS, HENRY STANLEY'S CLAIMS OVER CONGO DIAMOND AND GOLD, THEFT OF NIKOLA TESLA'S INVENTIONS, CREATION OF MARCONI WIRELESS AS A STATE MONOPOLY, ROUND TABLE, MILNER'S KINDERGARTEN, PILGRIMS SOCIETY,
The Pirbright Institute is a research institute in Surrey, England, dedicated to the study of infectious diseases of farm animals. It is located on 200 acres of land controlled by the British Ministry of Defense (MOD), just south of the village of Pirbright.
The Pirbright Institute has close affiliations with vaccine pharmaceuticals including British Merial (originally a joint venture between drug companies U.S. Merck and French Sanofi-Aventis), German Boehringer-Ingelheim, British Wellcome Trust, and the Bill and Melinda Gates Foundation. Wellcome Trust and the Gates Foundation are the two largest investors in pharma research on the planet and heavily fund The Pirbright Institute.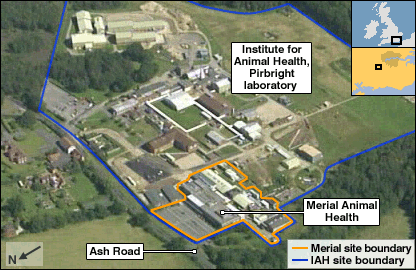 FIG. 3

—EDITOR. (AUG. 05, 2007). FOOT-AND-MOUTH STRAIN IDENTIFIED. BBC NEWS. INSTITUTE FOR ANIMAL HEALTH, PIRBRIGHT LABORATORY, MERIAL ANIMAL HEALTH, INSTITUTE FOR ANIMAL HEALTH, SURREY, UK, SITE OF THE FOOT AND MOUTH OUTBREAK.
The investigation into Merial cited extreme sloppiness such as bio security lapses, poor drainage systems, poor maintenance and inspection, poor communications, lack of oversight of contractors working on the site, poor record-keeping, conflicts of interest within the government entities and Merial's commercial interests.
Merial and its key shareholder, the French company Sanofil, were together acquired by German Boehringer Ingelheim on Jan. 03, 2017.
Merial was founded in the UK on Mar. 07, 1997 through the merger of the animal health businesses of Merck and Rhone Merieuxm (also named Sanofi-Aventis) and is one of the top 10 players in the UK pharmaceuticals industry. They operate in more than 150 countries, employ more than 5,000 people, and boasted 2007 sales of £1.1billion.
On Feb. 09, 2017, Boehringer-Ingelheim bought Merial-Sanofil and continues to operate Merial's vaccine manufacturing facilities at The Pirbright Institute.
FIG. 4—THE "CORONAVIRUS" IS BRITISH-OWNED U.S. PAT. NO. 10,130,701 – CORONAVIRUS, THE PIRBRIGHT INSTITUTE (UK). 

BOEHRINGER INGELHEIM ANIMAL HEALTH

 THAT IS NOW HEADQUARTERED AT 

THE PIRBRIGHT INSTITUTE (UK)

, WAS FORMERLY 

MERIAL ANIMAL HEALTH LIMITED

 (UK) CO. NO. 01961886, THEN MERIAL-SANOFIL, WAS THE SITE OF THE OF THE AUG. 03, 2007 FOOT AND MOUTH OUTBREAK THAT WAS BLAMED ON CONFLICTS OF BUSINESS INTERESTS (CORRUPTION), POOR RECORDS, SLOPPY CONTROLS, POOR MANAGEMENT OVERSIGHT AND UNSANITARY FACILITIES AT THE PIRBRIGHT INSTITUTE.
Merial Animal Health Limited (50% owned by 

U.S. Merck

) was sold to 

French Sanofil

 on Jul. 30, 2009; then three months later on Oct. 12, 2009, built a $70 million production plant named 

Merial Animal Health Co., Ltd. (Nanchang, China)

; then sold to 

German Boehringer Ingelheim GMBH

 on Feb. 09, 2017), but still produces poultry vaccines from their 12-acre plant having retained the name 

Merial Animal Health Co., Ltd. (China)

 – just a 4 hour drive from Wuhan, China. Map of The Pirbright Institute, Pirbright, Surrey, UK.
In other words, you are forbidden from giving a patent application misleading name. Indeed, there are currently 75 patents with coronavirus in the title. The Coronavirus patent is one of 11 awarded to The Pirbright Institute. These titles described the uniquenesses of each claim (a requirement). For The Pirbright Institute U.S. Pat. No. 10,130,701 to be allowed the name simply "CORONAVIRUS" means what it says. Also remember, British SERCO manages the patent approval process at the U.S. Patent Office, the the possibility of fraud is heightened, especially considering that SERCO's sister company QinetiQ–both controlled by the Monarch's Golden Share giving 100% veto power over operations–essentially approved the patent to themselves. This is evident fraud.
U.S. PATENT OFFICE: "A FINDING OF "FRAUD," "INEQUITABLE CONDUCT," OR VIOLATION OF DUTY OF DISCLOSURE WITH RESPECT TO ANY CLAIM IN AN APPLICATION OR PATENT, RENDERS ALL THE CLAIMS THEREOF UNPATENTABLE OR INVALID."

QUESTION: WHEN IS THE U.S. PATENT OFFICE GOING TO DISCLOSE ITS FRAUD AND TREASON IN CONTRACTING WITH BRITISH CROWN COMPANIES SERCO AND QINETIQ?
---