ARCHITECTS ARE DESIGNING A 100% FOOD AND ENERGY SELF SUFFICIENT "SMART FOREST CITY"
By John Vibes.
Posted April 7, 2020 by Edward Morgan.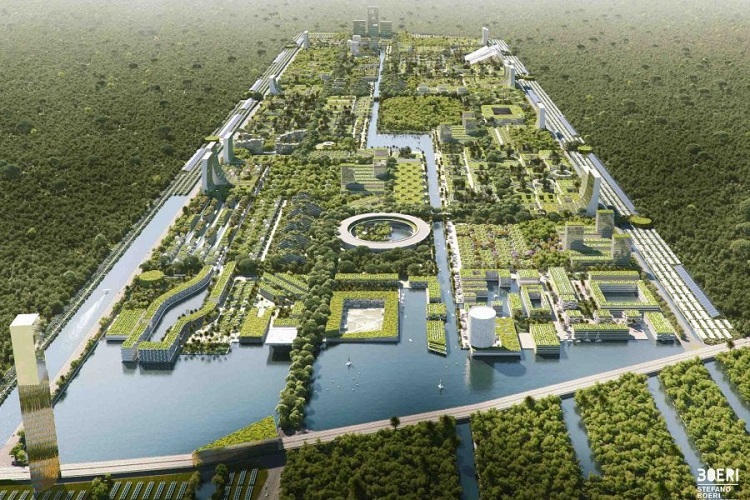 .
In most of the world, the cities and their architecture were not designed with the environmental impact in mind. Until quite recently, humans were unaware of the effect that they had on the environment, but now that our capabilities to cause damage have become so great, the fact has become impossible to ignore.
Experts are finding that there are more efficient and sustainable ways to organize our cities, but there aren't many real-life examples of these ideas in action. However, an architecture firm based in Milan called Stefano Boeri Architetti is hoping to change that. The firm is working on designs for what they are calling a "nature-infused smart city," which they hope will provide an example for future sustainable designs.
They are currently bidding for a 557-hectare site in Cancun, Mexico, with the property developer Grupo Karim. It is not certain that they will gain control of the site, as there are also other plans to turn the area into a shopping district. However, if the "Smart Forest City" is picked, it will become the home of up to 130,000 humans, along with 7,500,000 plants.
"Thanks to the new public parks and private gardens, thanks to the green roofs and to the green facades, the areas actually occupied will be given back by nature through a perfect balance between the amount of green areas and building footprint," a press release said.
If it comes to fruition, the city will be surrounded by a ring of solar panels, which the German company Transsolar has already offered to help out with. There will also be an agricultural field belt that wraps around the center of the city, with a channel of water that will run along the crops to keep them watered.
"In particular, water is a key element in the project: it is gathered at the entrance of the City in a huge basin, where there is also a desalination tower, and it is distributed by a system of navigable canals in the whole settlement up to the agricultural fields belt that surrounds the urban area. A series of water gardens are designed to fight floods as a model for resilient landscapes," the press release said.
These features are what will make it possible for the city to be entirely energy and food self-sufficient.
About the Author
John Vibes is an author and journalist who takes a special interest in the counter culture, and focuses solutions-oriented approaches to social problems. He is also a host of The Free Your Mind Conference and The Free Thought Project Podcast.
---
Archives:
---
Main Site:
violetflame.biz.ly
A Trusty with Privacy Search 

Alternatives to YouTube
Jordan Sather's 
---
No religious or political creed is advocated here.
Organised religion is unnecessary to spirituality.
Excellent teachings of the masters have been contaminated by the dogmatic control of these religions.
Discernment yes; judgement does not.
If you use discernment you are free to research with an open mind. 
With discernment it is possible to reach the spirit of the letter of any writing and it is also much easier to listen to the voice of the soul that comes from the heart.
Individually

 you can be helped to find your Truth that is different of everyone. 

Please respect all credits.
Discernment

 is recommended.
All articles are of the respective authors and/or publishers responsibility. 
---
Like this! please bookmark. It is updated daily